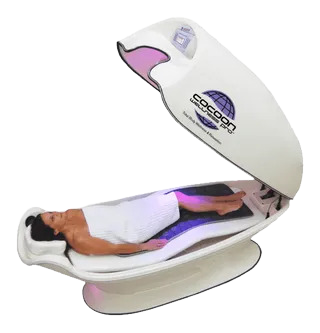 Improve Your Skin
Heal your body from the inside out with our infrared light. This light penetrates the deepest tissue for a healthier glow.
Burn Calories
You can burn up to 600 calories in only 30-40 minute Cocoon cycle.
Remove Toxins
Each session in the Cocoon pod releases stress-induced toxins and heavy metals.
Relieve Pain
Do you have arthritis, muscle spasms, joint stiffness, or sprains? Spending one session in these pods can help with the physical pain from these.
Reduce Stress
Are you looking for passive weight loss? Take a moment to sit back, relax and destress in our Cocoon pod.
Strengthen Immunity
Give your body the natural defense boost it could use by releasing harmful toxins and cleaning out your system.
Enjoy 20-30 minutes of relaxing Infrared light, dry heat, aromatherapy, massage, and jade stones for wellness. Burn up to 600 calories per session in this personal sauna pod.